I first discovered Jandy Nelson through her book I'll give you the sun. I fell in love with how she depicted her characters and all the feels it gave me.
So when I found out she had another published book, I could not pass reading it.
I noticed that sometimes, I read books that have a similar red thread, but not on purpose. Lately, I have been reading many books tackling the complex subject of grief.

My heart broke with this passage:
"My sister will die over and over again for the rest of my life. Grief is forever. It doesn't go away; it becomes a part of you, step for step, breath for breath. I will never stop grieving Bailey because I will never stop loving her. That's just how it is. Grief and love are conjoined, you don't get one without the other. All I can do is love her, and love the world, emulate her by living with daring and spirit and joy."
I really resonated with how Jandy Nelson depicted grief. It's not a feeling that diminishes with time. It comes and goes like waves you have no control over, nor any warning signs that exist to prevent drowning.
The love triangle was actually believable. I personally understand how Lennie can be torn between the boy who understands her grief (but who she should not get too closed to) and the boy who simply learns to know her and shares her deep passion for music. I am not a sucker for romance in general, but this story offered some really funny moments, as well as poetically hearbreaking ones.
There's a movie adaptation
Jandy Nelson was the screenwriter for this adaptation, which is always a positive thing when a beloved book is becoming a movie or a tv show.
This is available on Apple tv, which is one of the streaming services I actually am not subscribed to. This means that unfortunately, I have not yet been able to watch the movie to give you my thoughts. However, the trailer looks rather promising!

About the author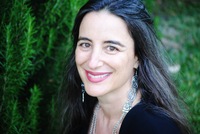 Jandy Nelson is a self-proclaimed superstitious woman.
Jandy Nelson was a literary agent for many years. She received a Bachelor of Arts from Cornell University and MFAs in Poetry and Children's Writing from Brown University and Vermont College of Fine Arts. She is currently a full-time writer; she lives and writes in San Francisco, California.


The Sky Is Everywhere
Novel, Young Adult, Fiction
Puffin
2011-03
Paperback
275

Adrift after her sister Bailey's sudden death, Lennie finds herself torn between quiet, seductive Toby—Bailey's boyfriend who shares her grief—and Joe, the new boy in town who bursts with life and musical genius. Each offers Lennie something she desperately needs... though she knows if the two of them collide her whole world will explode.
Join Lennie on this heartbreaking and hilarious journey of profound sorrow and mad love, as she makes colossal mistakes and colossal discoveries, as she traipses through band rooms and forest bedrooms and ultimately right into your heart.
As much a celebration of love as a poignant portrait of loss, Lennie's struggle to sort her own melody out of the noise around her is always honest, often uproarious, and absolutely unforgettable.