I don't think I would have picked up this book if it hadn't been so strongly recommended by Tarryn Fisher and her readers on social media. The cover is stunning, but the title is a little… off-putting, to me. It totally makes sense once you are reading it, though.
The book begins with a flashback to when the main character, Beatrice ("Trixie") is twelve and is told by a fortune teller that the love of her life will die and leave her alone. So we KNOW from the first chapter that something bad will happen. I think this is one of the big page-turning factor: how will this terrible thing come to be?
Something I loved about this story is also the family dynamics we are witnessing. Both on Trixie's side and on Jacob's side. My own father issues were reflecting on how I felt about theirs.
The characters were all flawed in their own ways but that made them more realistic, too.

I highly recommend God-shaped hole, but keep a box of tissues nearby…

About the author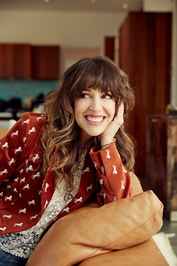 Tiffanie DeBartolo (born November 27, 1970) is an American novelist, filmmaker, co-founder of the independent record label Bright Antenna, and co-founder of The ShineMaker Foundation. Tiffanie has written three novels: God-Shaped Hole, How To Kill a Rock Star, and the upcoming Sorrow, scheduled for release in October 2020. She wrote and directed the film Dream for an Insomniac, featuring Jennifer Aniston, released in 1996. She also penned the text to the graphic novel GRACE: The Jeff Buckley Story, which was released in April 2019.

God-Shaped Hole
Fiction
Sourcebooks, Inc.
16 May 2017
416

"God-Shaped Hole will change you as a reader, writer and human. It is rare books like this one that remind me why I fell in love with the written word." — Colleen Hoover
When I was twelve, a fortune teller told me that my one true love would die young and leave me all alone...
When Beatrice Jordan meets the unpredictable Jacob Grace, the two wild souls become instant allies. Together they discover an escape in each other's creativity and insecurities, while running from secrets they cannot seem to shake — or a fate that could throw them to the ground . . .
This 15th Anniversary reissue of Tiffanie DeBartolo's classic love story introduces a new audience of dreamers to a quintessentially real and raw vision of spirit, and inspires everyone to live — and love — as vividly as possible.